The resistance depends upon


* the width of the cavity

* the surface properties (as radiation will be emitted here), and

* whether or not it is ventilated (the height of the cavity will also be a factor).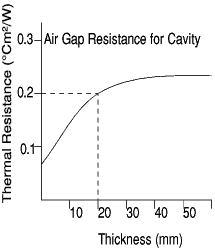 Derivation of the resistance is difficult.

It is usual to read data from a table or graph which fits the

width, surface emissivity and
ventilated/unventilated status.